2011 EMA's Proved To Be A BIGBANG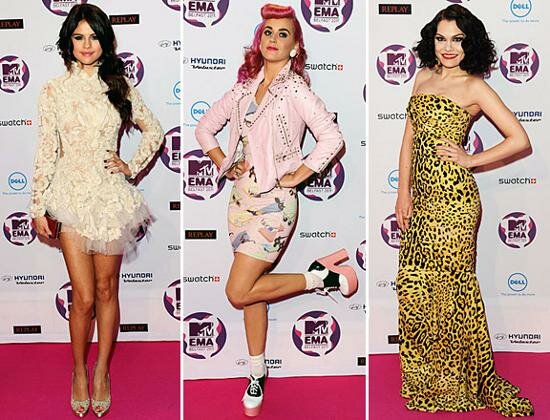 The 2011 European Music Awards lived up to its hype!
This year EMA's proved to be a huge success. And even gave us a few surprises along the way.
After an astonishing amount of votes from fans! One group was able to make history on MTV. With over 158 million votes, BIGBANG did what no other band has done before and proved that anything can be accomplished!
Lady Gaga dominated the show, leaving Belfast with four wins (Best Female, Best Song, Best Video, and Biggest Fan).
She wasn't the only multiple award winner. EMA regulars 30 Seconds to Mars received the first award of the night from the red carpet pre-show for Best Alternative and were honored again with Best World Stage.
Justin Bieber received two awards Best Male and Best Pop, while Bruno Mars topped off 2011 with victories in Best Push and Best New.
Eminem's mantle will be loaded up with some more EMA hardware with his repeat win of Best Hip Hop. (Eminem also revealed that he's working on a collaboration with 50 Cent and Slaughthouse.)
Katy Perry proved to be an EMA favorite again by being rewarded with Best Live.
Best Rock went to Linkin Park, and Korean band BIGBANG proved that they rock around the world by winning the inaugural award in the category of Worldwide Act.
Rounding out the night of awards was the incomparable Queen, who was awarded the Global Icon award prior to an electrifying performance that included Adam Lambert on vocals.
Congratulations to all 2011 winners on their richly deserved EMAs!
Winners of last night's MTV 2011 European Music Awards:
Best Alternative
Thirty Seconds to Mars
Best World Stage
Thirty Seconds to Mars
Biggest Fans
Lady Gaga
Best Female
Lady Gaga
Best Song
Lady Gaga 'Born This Way'
Best Video
Lady Gaga 'Born This Way'
Best Live
Katy Perry
Best Rock
Linkin Park
Best Male
Justin Bieber
Best Pop
Justin Bieber
Best Hip Hop
Eminem
Best Push
Bruno Mars
Best New
Bruno Mars
Worldwide Act
BIGBANG
HERE ARE PHOTOS OF THE WINNERS: