Khloe Kardashian Wedding Pictures To Lamar Odom + Guests (Photos)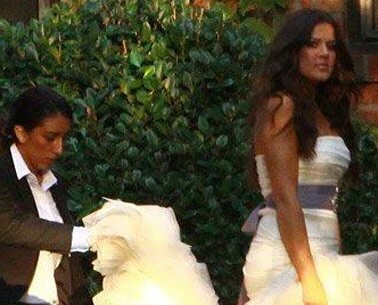 Reality star Khloe Kardashian, 25, known from 'Keeping Up With The Kardashians' and 'Kourtney and Khloe Take Miami' married L.A. Laker's basketball player Lamar Odom in a private ceremony on Sunday, September 27, 2009 after only dating for a mere one month, as reported on HipHopRX.com.

For her special ceremony, Khloe Kardashian was escorted down the aisle by her step-father Bruce Jenner to the sound of a 10-piece orchestra as she fashionably sported a strapless Vera Wang wedding gown with a lavender sash with a rhinestone brooch as the centerpiece in front of approximately 250 guests.
A very pregnant Kourtney Kardashian and Kim Kardashian served as Khloe Kardashian's maids of honor. The bridesmaids consisted of their sisters Kendall and Kylie Jenner, actresses and twin sisters Khadijah and Malika Haqq, and actress Lauren London, who recently gave birth to her and rapper Lil Wayne's newest child, all wore lavender gowns with a mermaid hem by Vera Wang as they carried a bouquet of white roses.
Celebrities who attended Khloe Kardashian's wedding ceremony included Ryan Seacrest, Sugar Ray, TV personality Lala Vazquez, Babyface, Kelly Osbourne, Adrienne Bailon, Kobe & Vanessa Bryant, among others.
As for exclusive wedding photos, reportedly Khloe Kardashian's mother Kris Jenner sold the rights to publish the official ceremony and wedding photos for $300,000 to OK! Magazine.
Check out photos from the Khloe Kardashian wedding.