Behind The Scenes With M.I.A.; New Video "Boyz"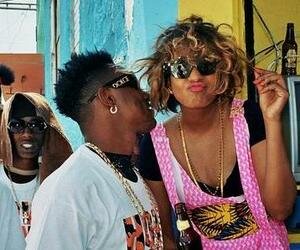 Sri Lanka rapper/singer and visual artist M.I.A. residing in Hounslow, London, England, has made a transformation from sexy to "sexy n wild". Since stepping onto the music scene in 2003 from her hit single "Galang," M.I.A. has grown radically in popularity. Recently the rapper recorded her upcoming video "Boyz" for her forthcoming album "Kala" which will be released under XL Recordings/Interscope Records. The album is expected to be out in the U.S. on August 21, 2007 and will feature production from Timbaland, Switch, Diplo, M.I.A. herself and others.
Her latest single "Boyz" will be released on enhanced CD along with her promo video, behind the scenes, remixes and more. The song "Boyz" will also be available on 12″ vinyl and via a M.I.A. branded USB wristband.
Music Video:


As of today the artist was announced as being added to the Siren Fest which will make this her first appearance in the U.S. for Kala. Siren Fest will be July 21, 12-9pm, at Coney Island, in New York City.
On last year she wasn't allowed into the country for an unspecified reason. Some believe that it was due to her lyrics.
The rapper is reportedly working with Three 6 Mafia on two tracks for her next album.
Behind The Scenes:

Current Tracklisting:
Bamboo Banga
BirdFlu
Boyz
Jimmy
Hussel (featuring Afrikan Boy)
Mango Pickle Down River (with The Wilcannia Mob)
20 Dollar
World Town
The Turn
XR2
Paper Planes
Come Around (featuring Timbaland)
Other Event Dates:
June 22 2007 Glastonbury, England @ Glastonbury Festival
Jul 21 2007 6:00P Siren Festival Brooklyn, New York
Aug 3 2007 3:00P Lollapalooza at Grant Park Chicago, Illinois
Aug 5 2007 3:00P V Festival Baltimore, Maryland
Aug 16 2007 3:00P Pukkelpop Festival Hasselt, Belgium
Aug 17 2007 8:00P Gloria Theater Cologne, Germany
Aug 18 2007 3:00P Lowlands Festival Biddinghuizen, Netherlands
Aug 21 2007 8:00P Nimes Arena w/Bjork Nimes, France
Aug 23 2007 8:00P Nimes Arena w/Bjork Nimes, France
Aug 24 2007 3:00P Rock En Seine Paris, France
Aug 26 2007 3:00P Get Loaded Festival London, England
Sep 1 2007 3:00P Electric Picnic Dublin, Ireland
Sep 2 2007 8:00P Connect Loch, Scotland
Sep 8 2007 3:00P V Festival Toronto, ONT, Ontario
Sep 9 2007 3:00P Oshega Festival Montreal, QC, Quebec
Sep 14 2007 3:00P Austin City Limits Festival Austin, Texas