Newspaper Interview Gets Rapper Fired From Job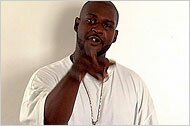 He just wanted to tell his life story to New York Times about how he grew up and witnessed death in Detroit, but his employer Professional Removal Services wasn't going for it. The company accused 34 year-old Mike Thomas of violating rules of employees speaking to media.
Mike Thomas was featured in a New York Times article on last Monday, which inturn got him placed as "suspended indefinitely without pay pending an investigation" by Professional Removal Service mid-week. The bad thing is that Thomas has three kids, no car and now no job.
The company's owner Eric Orr states that he told Mike not to talk to the media, and he did it anyway due to it being the company policy not to talk about the job. Orr admits that the policy is not in writing.
Due to his daily routine of picking up dead bodies for the city morgue it inspired him to write songs such "Transporter" and "Picking up the Pieces."
Since being fired everything seems promising since Thomas says that record people have been to his producer's Web site, and filmmakers are pitching the idea of a reality show based on his life.
Thomas is currently working on his CD which is entitled "Coroner's Report." No word on when it will be released.