Before The Gunplay Fight, Machine Gun Kelly Stated That 50 Cent Taunted Diddy Outside His Trailer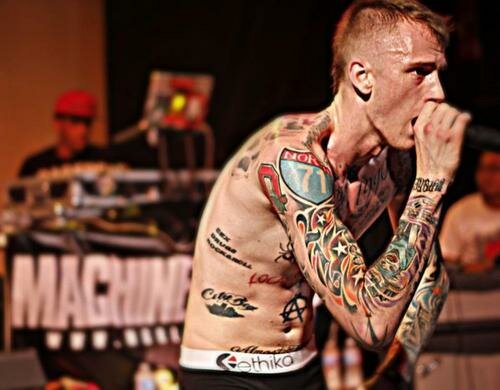 Machine Gun Kelly explains what really happened during the brawl between Gunplay and the members of 50 Cent's entourage.
Details on the fight included the Miami rapper Gunplay and the members of 50 Cent's entourage emerged to the parking lot during the taping of the BET Hip-Hop Awards, which took place on September 29.
In a recent interview with Power 105.1's The Breakfast Club, Machine Gun Kelly explained what went down during the taping of the award show. According to the Bad Boy rapper, just minutes before the fight 50 Cent made a few sarcastic comments about Diddy outside his trailer.
"I was about to go say 'what's up' and introduce myself to Gunplay right when that was about to happen," Machine Gun Kelly explained. "Right before that happened 50 Cent came up to Diddy – I think it was the other way around…I don't like to stay in one place I like to roam and just look at people so I was just roaming through the trailers and I just remember 50 Cent coming up outside of Diddy's trailer, but Diddy was on the inside of his trailer so he said to somebody and was like, 'What kind of money Puff say he was getting again? I can count that shit on one hand man'…I thought it was all funny and sarcastic and then two seconds later the whole Gunplay thing popped off."
Then the topic of fight versus flight came up and Machine Gun Kelly spoke on an incident in which he thought he was on the verge of an incident similar to Gunplay's.
"In Philly, we pulled up to the radio station and there was a black SUV outside of it and it was two black dudes in the SUV," explained the rapper "And right when I hopped out the thing I heard, 'Man, fuck Cleveland. Fuck them Browns. Fuck Machine Gun Kelly.' And the first thing I'm thinking and I put myself in the position; I put myself in the Gunplay position. I was like the first thing I thought was someone's trying to World Star me right now so I was like, 'Fuck you!'"
Machine Gun Kelly made a special appearance on The Breakfast Club to promote his debut album, "Lace Up," which was released on October 9.
Photo Credit: thisis50.com