Alabama Shuts Out LSU!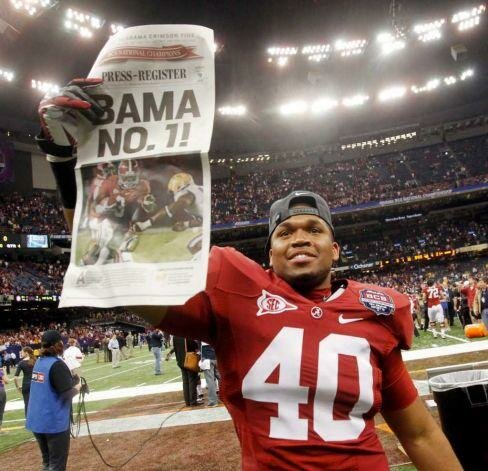 No one saw this one coming! The Alabama defense did the unthinkable yesterday during the 2012 All-State BCS Bowl.
The held LSU to 92 yards and shut them out! It wasn't until there were 8 minutes left in the 4th quarter that LSU actually broke past the 50 yard line.
Not only were fans able to watch Alabama live up to its aggressive defense they were also able to be a part of history. This was the first shutout in the BCS's 14-year, 62-game history.
Alabama was out for blood and redemption after their 9-6 loss to LSU in overtime on Nov.5.
Never the less, Alabama beat LSU in a very convincing manner as they celebrated with their trophy after the BCS National Championship college football game against LSU on Monday.
After a 21-0 victory over LSU in the bowl championship game last night, a final AP poll crowned the Crimson Tide No. 1. Alabama received 55 first-place votes, while LSU got one.
Yesterday's victory easily erased Alabama's Nov. 5 loss against LSU.
The Birmingham News is now talking up the D-word for Alabama.
"Not 'D' as in defense, which led Alabama to a 21-0 victory over top-ranked LSU on Monday night in the BCS Championship Game," writes Don Kausler Jr. this morning. "'D' as in dynasty."
Gene Wojcieechowski writes at ESPN that a with game like yesterday's with a "victory … so complete, so overpowering and so convincing," there is no doubting the BCS rankings. There's no doubting that the Tide deserve the top spot.
Yesterday's win gave Alabama its second national title in three years, so, says Kausler, expect lots of questions in the coming day about how much longer can Alabama dominate college football.
Congratulations to the Alabama Crimson Tide!
Photo Credit:chron.com