Floyd Mayweather Jr Gets Sentenced To 90 Days In Jail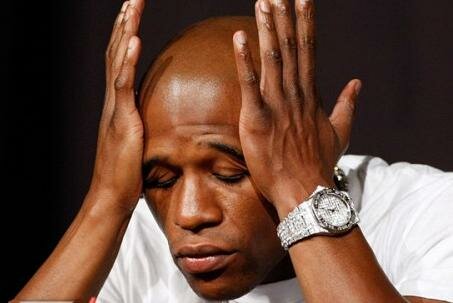 Floyd Mayweather Jr. had his court hearing yesterday. And the judge did not go easy on him whatsoever! He was sentenced to serve 90 days in jail for beating up his baby mama in front of their kids.
Floyd was sentenced to 6 months in jail, 3 months of that sentence was suspended.  He was also credited for the 3 days for time he had already served.

The boxer was arrested in September 2010 when his ex-girlfriend accused him of striking her "multiple times in the head with his fist" and then threatening to kill her.
Floyd struck a plea deal with prosecutors in the case in which he pled guilty to misdemeanor domestic violence. In return he would get a pass on the felony battery charge.
Floyd also pled no contest to two misdemeanor harassment charges after allegedly threatening to beat his kids too during the incident.
One of the main things that really infuriated the judge was the fact that he struck his baby mama in front of their kids.
The judge also ordered Mayweather to complete 100 hours of community service and a 12-month domestic violence program.  He was fined $2,500 … which to Floyd is like a poker hand.
He has until January 6 to turn himself in and being serving his sentence.
Photo Credit: myboxingfans.com