UFC's Biggest Event Velasquez VS Dos Santos Will Air ON Fox For Free!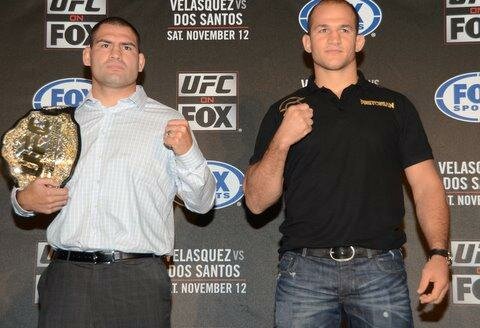 The biggest event of UFC's history will be airing this Saturday (November 12) on Fox, and it will be aired for free!
The UFC and Fox announced that they made a 7 year broadcast deal to air programming on Fuel TV, FX, and Fox. It should be a clear indication of things to come, because the UFC on Fox is going to transcend the UFC to a whole new level.
The Spike deal ends at the end of the year, so we'll see Spike programming move over to FX in January. But the UFC is giving Fox, and the fans, a free fight to kick off the new partnership on November 12th.
This, technically, should be the most important fight in UFC history.
The UFC is giving up about $40 million in pay-per-view revenue to put this fight on free television. Fox Sports President Eric Shanks said the network sold every minute of advertising more than two months before the show.
The amount of media that can get behind the UFC and the fighters is unimaginable.
This is a new age for the UFC, for MMA. This is going to be a platform for fighters to perform and attract new eyes to the sport. If we thought MMA was popular before, just wait. It's only going to grow bigger from here.
In a recent press interview Dana White shared his thought with the public about where he plan's on taking the UFC from here.
"We've broken records in arenas, been the largest pay-per-view provider in the world, done all these things that nobody could have imagined," White said.
"But on Saturday, millions of people will see mixed martial arts who have never seen it before. If you look at where we came from, our goal (once) was to get on free TV when we weren't allowed on pay-per-view. Porn was, but we weren't. We've come such a long way."
Until Saturday night, the biggest bout in UFC history was Forrest Griffin's victory over Stephan Bonnar on April 9, 2005, on live television. The bout was the finale of the debut season of "The Ultimate Fighter," the UFC's long-running reality show.
Griffin's victory on Spike TV was a show of blood and guts, with both fighters trading huge shots and taking enormous punishment in front of a delirious crowd and an apparently fascinated audience of TV executives.
"Who knew that fight was the one that would get us there?" White said, referring to the two untested fighters who became popular UFC stars.
"We were much more fortunate in this situation with Fox that we could hand-pick a fight. There aren't two other guys in the entire UFC I'd rather put in there. I picked this fight for a reason."
This fight promises to be extraordinary as both fighters are proven heavy hitters in the heavyweight division. Both fighters say that they are willing to keep the fight standing and you can bet that both are going to be looking for the knock out come Saturday night.
As a fan anyone can appreciate a fight of this magnitude that is going to be given to everyone for free. So I just want to say thanks Dana White! Oh and did I mention that the fight will air live, for free on the same night that the Pacquiao vs. Marquez III will be airing on Pay-Per-view.