Exclusive Photo: Punk Rocker, Avril Lavigne, Gets Jumped By 5 People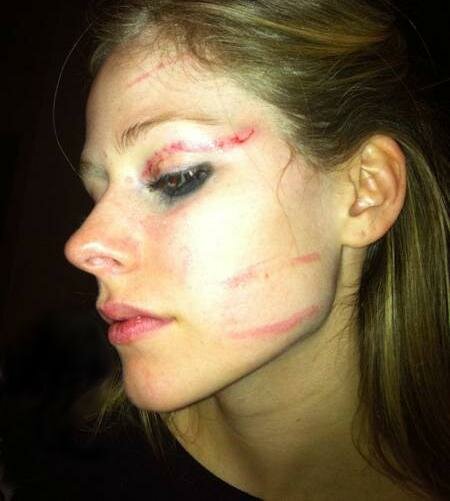 Avril Lavigne had a scary run-in with five attitudes and ten fists.
The Canadian punk rocker, who Rihanna sampled for her TGIF anthem "Cheers (I'll Drink To That)," says she was jumped by five people and her "face is f–ked."
Avril got involved in a fight outside the Hollywood Roosevelt Hotel late Saturday evening, though she denies partaking or sparking any rumbles:
"I don't fight. I don't believe in it. To clear things up I got attacked by five people last night out of nowhere. Not cool."
According to the Avril she suffered several injuries including a "black eye, bloody nose, hair ripped out, scratches, bruises and cuts." Damn. She also added, "So not ok to be abusive to others. Violence is NEVER the answer."
Avril's boyfriend, ex-Hills star Brody Jenner received some wild blows as well, including a bottle to the head, while trying to break up the fight.  He ended up a a big headache and woke up next to a bottle of aspirin.
So far no arrests have been made.
I can't imagine why anyone would to harm Avril Lavigne, we wish the best for her and a speedy recovery.