Exclusive Interview: The MANN Behind The Music!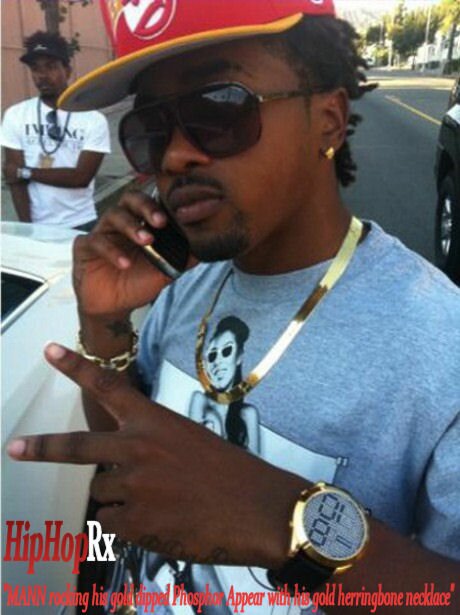 Hip hop artist MANN talks about collaborations, new projects, long term goals in the music industry, and gives us a few words for those who doubted his success.
Hiphoprx recently caught up with MANN who has been busy touring, promoting his new album, sporting some new wrist wear and filming for his new upcoming music video "Gold Herringbone."
MANN was signed to Def Jam since he was seventeen, but it's only been in the recent year that MANN's career has skyrocketed to new heights.
Many caught wind of the young rapper when his song "Text" (featuring Jason Derulo) was released in 2010, but when the "Buzzin Remix" (featuring 50Cent) was leaked in 2011, we finally knew what the MANN buzz was all about.
Since then he's worked on several collaborations including one of his latest and most memorable tracks, "The Mack" (featuring Snoop Dogg and Iyaz). MANN gives us some insight on his inspiration for developing the song and also tells us how much fun he had filming on set with Snoop Dogg, Iyaz and of course all the ladies who were on set.
In our interview he recounts one of the most difficult times in his life and how he turned it into a positive. He also gives us the low down on some of his new projects and ventures.
Hiphoprx: Growing up, what did you dream of doing and did you ever think you would have such a tremendous amount of success at such a young age?
MANN: I always knew I wanted to be in performing arts and that I wanted to get into this business.  I thought I was going to be the next big child actor before I thought I was going to be the next young hip hop star.  I've always been confident that I could make my dream come true.
Hiphoprx: Who was your inspiration while you were growing up?
MANN:  My family is my inspiration. The role I played in my family was all that mattered to me while I was growing up and still the most important thing in my heart.
Hiphoprx: Music wise, who would you say influenced you?
MANN:  The first artist who inspired me to rap was Ma$e. It's a really random answer to a lot of people, but when I first heard Ma$e I knew that there was a lane for me in Hip Hop.  I was definitely only 5 or 6 years old, but I knew that I wanted to be the next Ma$e.
Hiphoprx: Who do you look up to right now in the hip hop scene, as far as artists are concerned?
MANN: I look up to all the greats. Kanye,Jay-Z, Snoop Dogg, Busta Rhymes, everybody who's doing it and has been doing it. I really look at all the people who have had longevity because that's all I want to have. These artists have all mastered their craft and taken their talents beyond music and into other businesses.
Hiphoprx: Any hint of who you might collaborate with in the near future?
MANN:  I'm working with a lot of people, honestly way too many to name. Recently I just got on a Big Time Rush record that I think is going to a pretty big look. My next single "Get It Girl" features T-Pain. I just love combining my talents with other artist that I enjoy.
Hiphoprx: Is there anything you'd like to say to those who doubted your success in the past?
MANN:  "Look at me now, Uh, Look at me now oh. I'm Getting Paper. Look At me Now, OH, Look at me now, Yeah….Fresha than a Mutha…" in my best Chris Brown voice.
Hiphoprx: How would you describe your music to someone who's never heard it?
MANN: Universal Retro West Coast Fun. I love making music that represents where I'm from at the same appealing to everybody everywhere, all different colors and sizes. I've re-introduced a lot of people the original west coast sound that everybody knows and loves with my own twist. I'm not a Gangster, or a Disney Channel artist (no disrespect to Disney, I grew up on Disney) but I'm 20 yrs old and enjoy being young and free.
Hiphoprx: What are your long term goals in the music industry?
MANN: My long term goals have no limitations. I plan on being the biggest all around performer in show biz. Whether it be rapping, acting or dancing. I also would like to open more businesses with my family and friends. Hopefully dabble in finding and putting out new artist. Be the people's favorite.

Hiphoprx: What made you want to get into the music business?
MANN: I love making music. It came so easy to me once I picked up the pen at 14 years old.  After 2 yrs. of recording fun records and just having fun it led to me getting my first record deal. Now it feels live! I've been doing music all my life, and I'm getting better which is really starting to excite me. The more I have been doing, the more inspiration I've been drawing from it.
Hiphoprx: What is the most difficult thing you've had to endure in life?
MANN: The weekend when my house caught on fire while I was the only one in it right after my Cousin's funeral. That was a very low point because this was also around the time that my first attempt of a single didn't connect like we had hoped on radio. I kinda wanted to just give up on everything. I turned it into a positive though, starting living with my manager and started going harder than ever musically.  That's when I started living by the Birthday Philosophy.
Hiphoprx: What is the most difficult thing you've had to endure in the music industry?
MANN: Realizing that nothing is promised. I've had numerous records that we have attempted to go to radio with that because of things that have nothing to do with the actual music stops the progress. I have to go hard for myself because if I don't, then nobody will.
Hiphoprx: What do you hope to do with your music?
MANN: I hope to inspire and entertain. I want to affect the world in the most positive way. Spread this Birthday Philosophy to the masses. Living everyday like it's your birthday. I want to teach and lead by example.
Hiphoprx: What were your thoughts and inspiration when you developed the song "The Mack"?
MANN:  "The Mack" was really made just for fun. I loved the hook that Iyaz had already laid on the record and wanted to create the perfect verses around that, I was thinking summer time in LA.
Hiphoprx: Would you say it was more fun than it was work while you were filming "The Mack" Music Video alongside Snoop Dogg and Iyaz?
MANN: Yeah it was hella fun to do this music video. It was my first time really getting to chill with Snoop, which was something that I've wanted to do since I was little. It was a day that I will always remember. Not to mention all of the ladies on set, that was great as well lol.

Hiphoprx: What other new projects/business ventures are you currently working on?
MANN: On the business venture side, I'm lovin working with Phosphor Watches. It is a deal we put together because time is money and all their watches are sick! I even dipped my MANN BUZZIN' watch in gold to throw on with my Herringbone, maybe I'll bust it out in my video we shoot next for my song "Gold Herringbone." It's been great working with Phosphor and I can't wait for the new lines to come out.  People are going to love them.  Check them out at www.phosphorwatches.com.
I've actually been working on some very big things.  On the music side I'm working on the FreshMannOnVarstiy FREE EP which I'm very excited about. Accompanying the mixtape is my tumblr, Freshmannonvarsity.com, which is all content I create and I'm still working on making extremely awesome. I've been learning to shoot and edit my own videos and run my own studio.
Hiphoprx: In one word how would you describe both MANN and the MANN 'BUZZIN' Phosphor watch?
MANN: As far as MANN: Dedicated

For the MANN Buzzin' Watch: MONEY!
We have to admit that MANN is an interesting person who speaks with wisdom that surpasses his age. He's made great music and real good choices in his business ventures, but overall he's kept it 100% real!