Rihanna's New Video "We Found Love" Has Her Reliving Her Past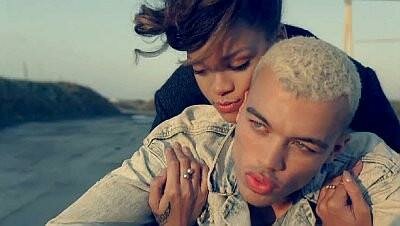 Rihanna has re-enacted her notorious bust-up with ex-boyfriend Chris Brown in an unexpected new video that pulls out all stops.
The singer split from Brown in 2009 after he attacked her in his sports car, leaving her battered and bruised.
Now she appears to be showing us a behind the scenes look at her past relationship in the video for the new song "We Found Love".
The gritty video begins with the Rihanna and model O'Shaughnessy, who bears a striking resemblance to Brown starring at each other while fully dressed in a bath.
As the film continues it begins to show the highs and lows of their turbulent romance as they kiss passionately and simulate sex scenes, before smoking what appears to be marijuana, popping pills and partying with a crowd of ravers in a field.
Rihanna then seemingly re-enacts her pre-Grammy Awards fight with Brown as she and O'Shaughnessy scream at each other in a car.
The shocking behavior continues as O'Shaughnessy tattoos the word 'mine' on Rihanna's backside, while she is also seen vomiting, boozing, streaking topless and hitting her lover as their romance spirals out of control.
The music videos cinematic feel let's face it everything that Rihanna's gone through in her own love life and makes the emotion in the video even more believable.
This has got to be one of the toughest moments Rihanna has gone through and for her to put it all in a Music Video, but I will say this it has got to be her best video to this very day!
Enjoy!