Coldplay & Rihanna Collab Together: "Princess of China"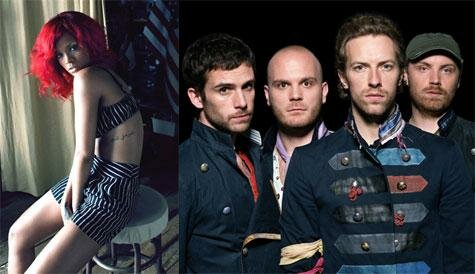 Coldplay and Rihanna recently collaborated on a track and it actually sounds like they had some real good chemistry.
Coldplay, one of the biggest bands in the world under is doing their part to turn Rihanna into the biggest female pop star in the world by putting her on their new single "Princess of China".
This might actually be the best I've ever heard Rihanna, put her in a high-tech studio with world class producers and a huge band backing her and Rihanna can really sing.
Apparently lead singer Chris Martin agrees:
"Well, her bit on our record is my favorite bit … when the song came out, it sort of asked for her to be on it. And I think at this point, we have nothing to lose, and so we've been trying some new things and trying to break down the perceived boundaries between different types of music. Because from where we're sitting, it seems like you can try and sound any way you like nowadays. You don't have to be in a rock box or a hip-hop box or a pop box, and I think it's fun when you embrace that idea."
"Princess of China" is off Colplay's unpronounceable new album "Mylo Xyloto", due to drop on October 24. This should set a new trend with Rihanna to look for more collaborations with artist outside of the hip hop industry.