Royce Da 5'9 Air's ON BET's 106 & Park Explains "Hi Rihanna" Line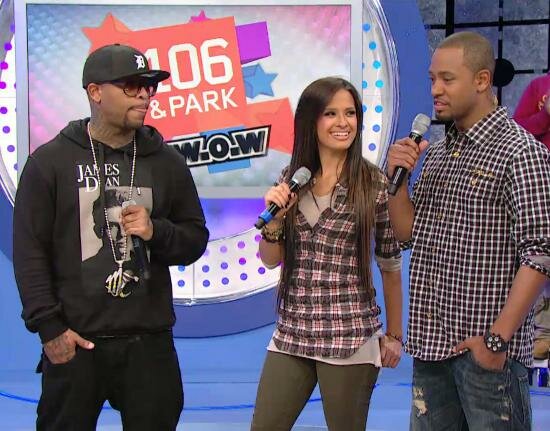 Royce nickel nine recently went to 106 and Park and explained his "Hi Rihanna" line from the cypher at the recent BET awards.
During his appearance at the BET Awards, Royce 5'9 shot a memorable acknowledgement to Rihanna during his cypher freestyle. As part of the Shady 2.0 cypher, Royce's salutations were loud and clear, prompting Twitter and others to popularize the phrase, "Hi Rihanna."
Royce hit the 106 & Park stage to give us an inside look on the inside joke.
"I seen [Rihanna] overseas," he explained. "Me and Em were performing at the V Festival. She was coming out to perform with us. She seen me and she came up to me. Like, I'm just a Detroit guy. Everybody is treating me like I'm famous now but I still feel regular. She came up to me and told me that she likes one of my songs. So, I just felt like, 'If you tell me that again, we go together.' It has to happen. So, you know, I express myself through my music. I just thought it was a line I was going to say. I didn't know she was going to hear it or what, but I didn't know it was going to become this."
Royce also mentioned that he has been hearing great feedback from the Shady 2.0 session. According to him, the response has been great and the Shady 2.0 crew felt proud of their work.
"We're getting a good response," he added. "Everybody did their thing. We walked out of there feeling proud."
Royce also went on record to say that it has become "cool" to be lyrical. Noting that sometimes lyricists get shunned for their focus on words, he said it's great for fans to have options when listening to music.
"There was a time in Hip Hop where it wasn't cool to be lyrical. I think it's cool to be lyrical again. It's actually cool to be lyrical. So, that opens up. It inspires the kids. It gives them a balance. It gives them an option."
Slaughterhouse is near done working on their Shady Records debut, an album that is scheduled to drop in early 2012, according to Royce.
In this interview, Nickel also added that fans can expect a new Slaughterhouse single later this year.
Very excited for that one! It seems that anything that Shady 2.0 drops deserves the repeat button over and over again just so you can have a chance to catch all the wordplay and punch lines.
For more from the interview, check the video below provided by BET.