Kanye Debuts Womenswear Collection, "Dw," At Paris Fashion Week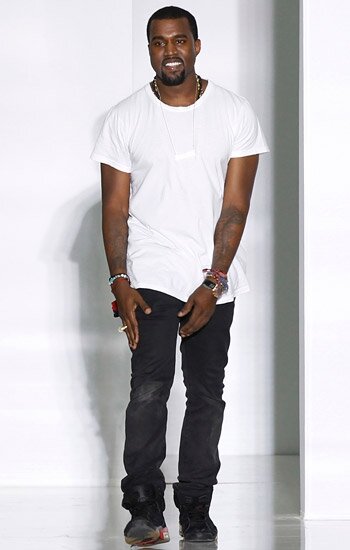 Kanye Nervous at his womenswear debut.
World known hip hop artist Kanye West traveled to France this weekend to unveil his first womenswear collection during Paris Fashion Week.
Kanye West named his line "Dw" in dedication to his mother who passed away in 2007. The hip hop visionary hopes to get the respect of his peers and the fashion industry, not as a "music artist" but rather a "designer."
Models Chanel Iman, who closed the runway show, Anja Rubik, Karlie Kloss and Jourdan Dunn strutted down the catwalk in unique looks that give you a sense of a "hip-hop dress code."
Kanye's celebrity friends, like Lindsay Lohan, Ciara, Mary Kate & Ashley Olsen, Terry Richardson, Mr. Hudson, Alexander Wang, Jeremy Scott, Sky Ferreira, Carine Roitfeld, Vogue's Editor In Chief Anna Wintour, Jared Leto, Joseph Altuzarra and Dsquared's Dean and Dan Caton, were in the front row attendance and many gave their approval.
"He did a great job," said Ciara. "Especially since for me, it's so cool to see someone come from our music world and do something like this. It's really hard. I walked away from this show feeling like I would love to wear this line. There is so much in it that's right up my alley." A clear fan, Ciara later tweeted, "KANYE is A GENIUS- TONIGHT was MONUMENTAL."
Designer Jeremy Scott also sang Kanye's praises, making mention of the hurdles the rapper faced. "Everyone probably thought it was going to be another like Jennifer Lopez's Macy's line and it's not, it's really clear it's not," said Jeremy. "Kanye has impeccable taste and you see his taste level is up there. He's a fan of design across the board. I have five-hour long conversations with him all the time about everything because he's so obsessed, and I think we got a little bit of an insight into his mind there."
Many fans know that Kanye has a very cocky reputation. However, Kanye let the world know that even he can be humble. "I'm so scared, I'm so nervous," he told the press after the show. "The biggest conversation I hope I can end tonight is whole 'celebrity designer' thing. That's the biggest hurdle when you want to get amazing people to work for you."
I give major credit to Kanye as a music artist and now with all the praise that he is receiving from with his clothing line I begin to wonder. Is there anything that Kanye doesn't excel at???