Rihanna's Video Shoot Stopped by Farmer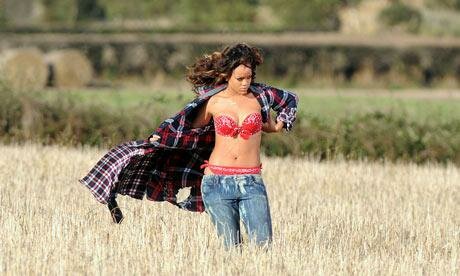 Rihanna's Video Shoot Stopped by Farmer
Rihanna just learned recently that regardless, who you are or how famous you may be some people will still draw the line when it comes to acting inappropriate.
The International star could not use her name or fame to gain leverage and prevent a North Ireland farmer from putting a stop to her latest video shoot in Northern Ireland.

Video production ceased on Monday while filming the music video for her newest single "We Found Love," when a conservative farmer saw her perform without a shirt on his grain field in Bangor, County Down.
Farmer Alan Graham the owner of the farm had granted Rihanna permission to use his land but was quick to climb off his tractor to protest when he saw her topless.
"I did not know on Friday who was coming, but if the name Rihanna had have been mentioned to me the name would have meant nothing to me," Graham mentioned in an interview.
Rihanna wore a red-checkered flannel shirt and changed into a stars-and-stripes bikini, a red bra and a mesh top before going topless in front of a crowd of fans and media.
"The state of dress was becoming inappropriate," Graham said. "I had my conversation with Rihanna regarding that and I hope she understands where I'm coming from and we shook hands and we parted company on good enough terms."
Many would have paid for the chance to have Rihanna go to their farm and take her shirt off.  However, this serves as a good opportunity to remind everyone that at the end of the day not everyone worships all the famous artists out there.
Some people are just not easily star struck and perhaps these are the people who are truly happy and content with life.  Because they are grateful for what they have and who they are.