Caught on Tape: What Caused Rihanna's Dallas Concert Fire (Photos)?!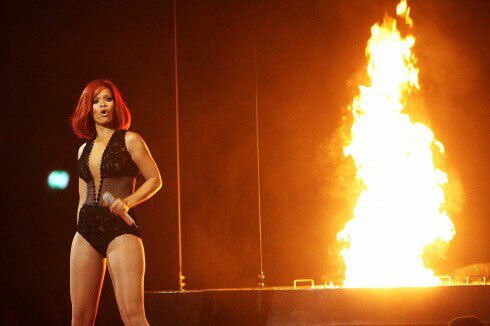 One of Rihanna's shows was cut short after abruptly a fire explosion sparked on stage during the R&B/Pop star's Dallas concert stop on her "Loud" music tour.
The fire explosion was caught on videotape and the fire can be seen blazing above the Dallas, Texas concert stage.

Rihanna's Dallas concert fire however was put out soon by the stage crew and was later looked over by Dallas firefighters.
The pop singer Twittered "DALLAS!!! We set the stage on FYAH tonight!!! LITERALLY!!!" joking with her Dallas fans who were disappointed but Rihanna promised them she would return.
The fire was reportedly an occurrence sparked by pyrotechnics but according to Rihanna, she will be attending a production meeting soon to learn about what exactly happened causing her Dallas concert fire.
As of yet, no reports have been made of Dallas firefighters' comments.
Photo of Rihanna Dallas Concert Fire