Rihanna, Britney Spears Open Billboard Awards With Sexy Performance (Video, Photos)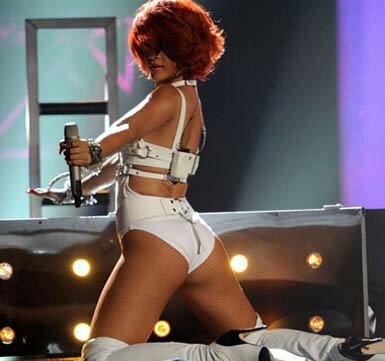 The 2011 Billboard Music Awards started out with hot patent leather, diamond cuffs with diamond mini-chains and sexy thigh high boots featuring non-other than pop music stars Rihanna and Britney Spears.
Pop star Rihanna started off the awards with her S&M bondage song in which she sung about loving the smell of sex wearing a white leather dominatrix outfit at the 2011 Billboard Music Awards held in Las Vegas Sunday at the MGM Grand Garden Arena.

During Rihanna's performance, she was teased by the hands of dancers who reached from underneath the floor as she crawled around the front of the stage.
As Rihanna made it towards the dance pole on the stage toward the end of her performance, Britney Spears rose in a chair in a black dominatrix suit wearing a black mask with bunny ears affixed as she sung to Rihanna's S&M song.
The two singers excited the crowd doing a dance routine against stripper poles which ended with Rihanna and Britney Spears fighting background male dancers with pillows.
Check out Rihanna and Britney Spears' 2011 Billboard Music Awards performance.