Elephant Farts In Reese Witherspoon's Face; Robert Pattinson's Dripping Love Scene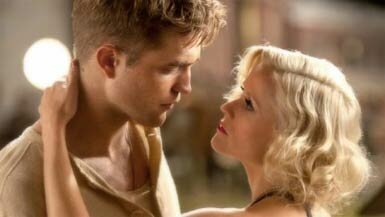 Looks like both Reese Witherspoon and Twilight actor Robert Pattinson had a good time making their new movie for the New York Times Best Seller "Water for Elephants." Reese Witherspoon stars in "Water for Elephants" as circus performer Marlena Rosenbluth while Robert Pattinson stars as her love interest, a veterinary student who joins the traveling circus as its' vet, Jacob Jankowski.
In the movie, the two find love after Marlena Rosenbluth's act is almost jeopardized due to her horse dying. Her cruel animal trainer August Rosenbluth buys her an elephant which leads her to find love with Jacob Jankowski.
According to Robert Pattinson, while filming, Reese Witherspoon got a nice breeze [fart] for at least 45 seconds from an elephant who went back on its hind legs and let it out all in her face. Robert Pattinson says Reese Witherspoon stood there and took it like a champ. Let's just call that 'job dedication.'

As for his dripping love scene, Robert Pattinson stated that his co-star wore a wig during their romantic scenes in which he unfortunately had cold during the taping.
In an interview with MTV First, Pattinson said that during the filming his nose was running real bad and since Reese Witherspoon had a wig on, he used it wipe his nose.
"…and literally, I was wiping my nose on her wig."
Pattinson adds that he is not that awkward and the scene in question was a really passionate love scene and it was really stupid. We guess he talking about the nose wiping part.
"I guess I am not that awkward anymore," states Robert Pattinson.
Movie Trailer: "Water for Elephants"