Black Eyed Peas 'Just Can't Get Enough' American Idol + Fergie Debuts Makeover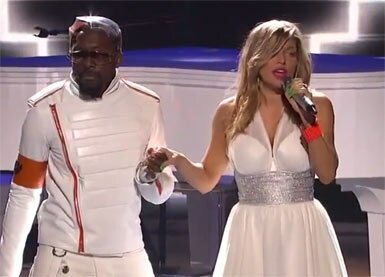 On Thursday, Black Eyed Peas' American Idol world premiere performance was dedicated to those affected by the earthquake and tsunami in Japan in which the hip hop alternative music group performed their new single "Just Can't Get Enough."
Before the performance, vintage photographs where displayed of each of the members which gave a glimpse of what the music artists looked like as kids.

Each of the Black Eyed Peas' members wore white outfits during the performance. Fergie showed up looking stunningly different in a somewhat new makeover. She sported a shorter, Marilyn Monroe styled white dress with beaming lips. will.i.am sported a white futuristic suit with a strip of red at the cuff, shoulder and chest. apl.de.ap wore a white outfit which had a strip of lime green near the button hole, front of the vest, shades and all lime green gloves. Taboo wore all-white with a blue belt and at the cuff of his shirt.
On the more serious side, Will.I.Am tells everyone before the performance, "The song is about love and strength and was dedicated to our friends in Japan".
The group announced that their thoughts and prayers go out to all the people of Japan.
In related news, Black Eyed Peas 'Just Can't Get Enough' video was filmed in Japan about one week prior to the disastrous Japan earthquake and tsunami.