La Toya Jackson May Own Michael Jackson's Family Home, Hayvenhurst Estate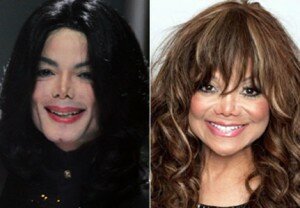 Who owns Michael Jackson's family home, the Hayvenhurst Estate now? That has been a question with doubt. Well now, according to reports, LaToya Jackson, who is currently on Celebrity Apprentice, might actually be the answer to who now owns Michael Jackson's family home in which Alejandra Jackson and her children now reside.
Alejandra is former girlfriend of Randy Jackson and former wife of Jermaine Jackson. She has two children with Jermaine, Jaffar and Jermajesty, and two with Randy, Genevieve and Randy Jr.
The Estate is trying to evict Alejandra and her children forcefully, doing everything from cutting off the gas to changing the locks, reportedly.

New information points to the fact that LaToya may have actually held joint tenancy with the legendary star, leaving the decision to evict in her hands after Michael Jackson's passing.
The LA Recorder, however shows the title being held by Michael Kane (Michael's business manager) and Michael Jackson.
A hearing to sort the details will reportedly be held on Tuesday.