Rihanna Raunchy, Kinky S&M Music Premiere Ft Perez Hilton (Pictures)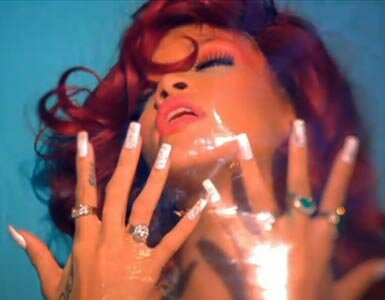 RnB singer Rihanna releases her sexy new video, 'S&M', causing the internet to go nuts. Come inside for all the naughty details!

Fans are raving about Rihanna's new video 'S&M', which was released Monday (Feb.1) via the web.
The video begins with Rihanna clad in a dress made from the tabloid rumors about her while being dragged by the paparazzi to a press interview. She pointedly picks fun at the journalists by portraying them as her personal pawns and pets.
She is also seen playing the part of Perez Hilton's dominatrix while walking him on a leash and smoking a cigarette.
The lyrics are also rather risque as she sings in her chorus, "sticks and stones may break my bones but chains and whips excite me."
So it seems that Rihanna's new bad girl persona is working well for her. Her fans seem to love it.
Check Rihanna out in her new video 'S&M'.