Jersey Shore Deena Nicole Cortese's Naked Bikini Wardrobe Malfunction (Photos)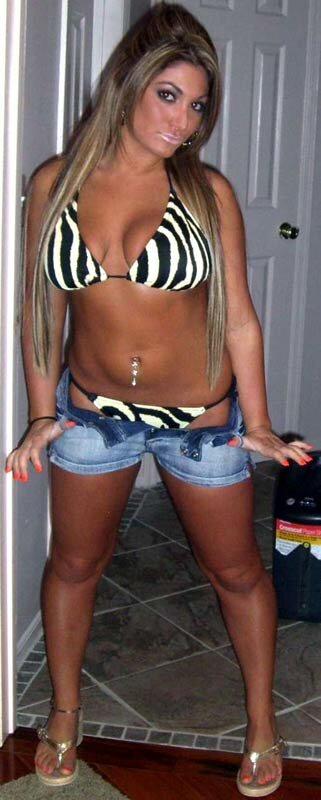 It didn't take Jersey Shore newcomer Deena Nicole Cortese, Snooki's new drinking partner, long at all to become an active member of the show. Just halfway through the Jersey Shore third season premiere, Deena Nicole stripped down pulling off her clothes including her bikini bottom until she has half naked for Mike The Situation.

Apparently, Deena Nicole Cortese was only trying to show The Situation how cute she looked in her bathing suit and cowboy hat, and had no idea her bikini bottom came off when removing her clothes.
Still, the 'mistaken' but sweet striptease was seemingly even 'too much, too soon' for even The Situation who seemed thrown back by the half nude Jersey Shore newcomer Deena Nicole Cortese standing in front of him.
Before Jersey Shore, the 23 year old Deena Nicole Cortese was a former cheerleader, dental technician and a waitress at New Jersey's Longhorn Steakhouse.
Though Deena defended the whole Naked 'Situation' on Jersey Shore claiming it was a mistake, she definitely is no 'shy one,' at least she claims she 'makes out' with anything when she's drinking.
Watch video: Deena Nicole Cortese Gets Naked For for Mike The Situation on New 'Jersey Shore'

Watch video: Deena Nicole Cortese Defends Nude Wardrobe Malfunction on 'Jersey Shore'