Face of Anorexia Model Isabelle Caro Dead At 28; Death In Question?! (Photos)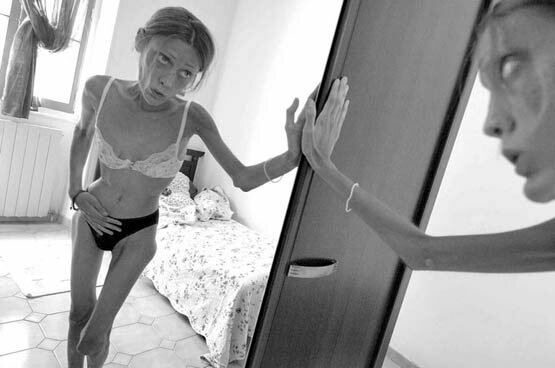 French actress and model Isabelle Caro, who basically became known as the Face of Anorexia, has died at the age of 28, confirms her longtime acting instructor, Daniele Dubreuil-Prevot.

Isabelle Caro's anorexic image appears in a shock Italian ad campaign that has now become a viral photo image of her, and her fight and all others' fight against the Anorexia nervosa eating disorder where people have an obsessive fear of gaining weight.
People who suffer from Anorexia deny themselves all but very small quantities of food up to the point of self-starvation. Anorexia is not to be confused with bulimia where people actually purge and self-induce vomiting and/or misuse or abuse laxatives, diet pills, etc.
According to Dubreuil-Prevot, Caro actually died on November 17 after returning from a job in Tokyo to France stating that she had an illness for sometime, apparently referring to her battle with anorexia.
French model Isabelle Caro's anorexic image Italian ad campaign was photographed by Italian photographer Oliviero Toscani in 2007 for an Italian fashion house.
The shock Italian ad campaign's headline reads "No Anorexia" and shows a completely naked Isabelle Caro's skeletal frame, with her vertebrae and facial bones protruding revealing a shocking anorexic image.
Reportedly, Isabelle Caro suffered from anorexia since she was age 13, however still the actual cause of the model's death is currently 'unknown' and in question.
Isabelle Caro reportedly weighed but 68 lbs at 5ft. 4in. at the time of her death.
In related news, Isabelle Caro, appeared on Jessica Simpson's VH1 self-esteem reality show The Price of Beauty and spoke about her battle with anorexia and body image. Below is video of Jessica Simpson
Video: Jessica Simpson meets Isabelle Caro and hears her story on The Price of Beauty

Pictures of French Anorexic Model Isabelle