Chris Brown, Raz B Twitter Fight Over Rihanna Sparks Homophobic Tweets Battle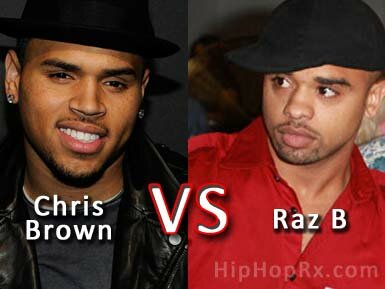 Looks like Chris Brown and Raz B are heading into the New Year on the wrong foot after some twitter beef popped off this week. The sultry R&B singer and dancer Chris Brown is taking no bird pecks from former B2K singer Raz B after he brought up the assault of Rihanna.
Chris Brown states that he wouldn't have said anything to Raz B, but he was singled out by Raz B.
Raz B stated on his Twitter that "n–gas" like Eric Benet and Chris Brown disrespect women such as Halle Berry and Rihanna.

Throughout the feud, Chris Brown mocked him for being a boy band member and now coming out that he was molested citing that, as long as he had the money coming, he didn't complain about it.
If you have been following Raz B's recent webisodes, you will know what Chris Brown is talking about. Evidentally a very difficult situation for Raz B, he claims that he was molested and sodomized as a child star by Chris Stokes and singer Omarion Marques Houston.
Meanwhile, some fans are viewing Chris Brown's words as homophobic, while others feel that he's just being real and himself.
Chris Brown feels that everyone is always bashing him as soon as he defends himself and Raz B is using gay people as a scapegoat.
Brown says he loves all his gay fans and his words are not targeted at them, but at Raz B who he mentioned has a tattoo on his lower back that reads "Different Strokes."
Do you feel that Raz B should take the positive approach to his situation instead of focusing on others that he deem's negative and disrespectful?
Developing….
In related news, Raz B, was reportedly signed to Tila Tequila's new label, as reported on HipHopRX.com, earlier this year.