Teen Mom Amber Portwood Arrested on 3 Felonies + Pregnant Rumors, Mugshot Photo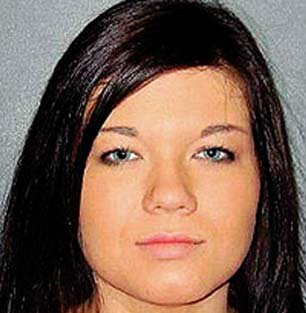 Amber Portwood, 20, reality star of MTV's "Teen Mom" was arrested for child neglect and domestic battery stemming from her physical beat-down of her ex-fiancé Gary Shirley.

The 20 year-old mother was arrested on Monday and placed automatically on a twenty-four hour hold at the Madison County jail, according to reports.
The young mother was charged with 3 felonies which included (2) counts of domestic battery and (1) count of neglect of a dependent. Amber Portwood received also a misdemeanor domestic battery charge.
Although this wasn't the first time she had assaulted her ex, in October, as reported on HipHopRx.com, an investigation began in September after a segment of the Teen Mom reality show aired footage showing Portwood on camera assaulting Gary Shirley who stated that he was going to call child services on her over their daughter Leah.
Amber Portwood was seen smacking Gary Shirley in the face and continuously hitting him while he stayed cornered into an apartment wall. (Assault photos)
In other news, it was being reported that Amber Portwood was pregnant and she didn't know if the father was her alleged new boyfriend cage fighter Clinton Yunker or ex-fiancé Gary Shirley. Since the rumored report, Amber Portwood has since denied that she is pregnant.
Amber Portwood faces up to 3 years in jail and a fine of around $10,000 if convicted.