Keyshia Cole Says Nicki Minaj Hip Hop Collab Was Wrong Choice; Single Mistake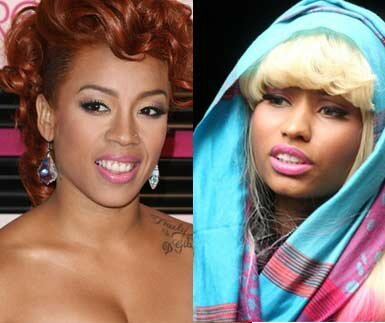 Keyshia Cole admits that she was wrong for dropping 'I Aint Thru' ft. Nicki Minaj as the first single from newly released album, 'Calling All Hearts'. Look inside for all the details.

29-year-old musician Keyshia Cole is finally coming to the realization that maybe her label was right and she shouldn't have released the duo of her and Nicki Minaj as her first single. From early on, the label insisted that it would not be a smart move to release the song first because it was not what her fans were used to hearing from her. Keyshia Cole fans expect something deep and rich in soul like the more popular songs 'I Should Have Cheated' and 'Love'. When 'I Aint Thru' hit the airwaves it never gained the popularity that Keyshia anticipated.
Though the song failed to make the singles chart, Keyshia says of her decision that she wanted to make a "statement record" and doesn't have any regrets, for trying to 'do her.'
Keyshia and her label quickly went back to the drawing board and decided to release 'Long Way Down' in an attempt to keep her fans satisfied.
Keyshia now thinks that her fans simply expect her to sing about just love, but she plans to always try to grow as an artist and feed her artistry.
Keyshia Cole's fourth studio album 'Calling All Hearts,' was released on December 21, 2010 on Geffen Records, Interscope, and features along with Nicki Minaj, Faith Evans, and others with production by Timbaland and J.U.S.T.I.C.E. League, just to name a couple.