Caught on Tape: Diddy Last Train To Paris Party, Naked Model Hair Catches Fire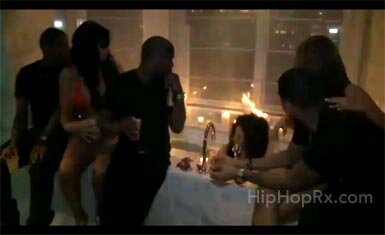 In a Michael Jackson burning-hair like moment, a naked model's hair was ignited by a burning candle as she sat in a hot tub at Sean Diddy Combs' Last Train To Paris party during a live Ustream broadcast/webcast online.

The hip hop music mogul was holding his album release party at the London Hotel which was being hosted by comedian and actor Kevin Hart.
In the video, Kevin Hart can be seen talking about Diddy's album and who was at the party, as another model in a red bikini rubbed on the head of the model in the hot tub pulling her hair away from the flame.
Soon after Hart said he would be getting in the hot tub with the model, a flame could be seen burning behind the model's head.
The model hadn't noticed her hair was on fire until a guy throwing rose petals in the hot tub hollered, "Your hair is on fire!"
Kevin Hart turned around screaming like the drama king he is, " Oh! Oh! Sh-t! Did the camera catch that? Cut the camera off," as he walked towards the camera bucking his eyes with a little laughter.
This was probably a sign for Kevin Hart not to jump in a hot tub with a naked model or possibly a notice for the Last Train For Naked Models who like to sit close to burning flames with chemicals in their hair.
Maybe the next naked model in the hot tub should have a short hairdo Diddy.