Justin Bieber, Kesha, Wiz Khalifa, Nicki Minaj Are 2010?s Most Searched People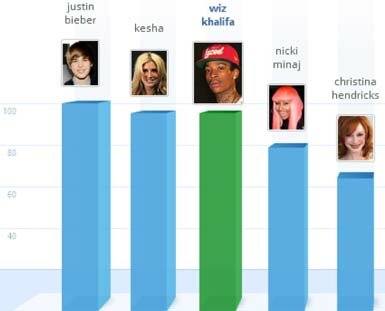 What do these names have in common: Justin Bieber, Kesha, Wiz Khalifa, Nicki Minaj, Christina Hendricks, Heidi Montag, Katy Perry, Kid Cudi, Kim Kardashian and Lindsay Lohan? They were all in the Top 10 Searched People.

These celebrities made the list for Google's 2010 Year-End Zeitgeist for "Most Search People" in the US.
The Google Zeitgeist is a list of the world's most searched queries that were typed over the past year. Billions of queries are sorted and only include the biggest events, news, and people who made it to the top of the list based on Insights for Search and Google Trends.
So who made this year's top people in music? The top 10 people in music included teen heart-throb Justin Bieber, singer Kesha, rising rapper Wiz Khalifa, Young Money female rapper Nicki Minaj, California Gurls Katy Perry, Day N Nite rapper Kid Cudi, chart topping rapper Eminem, belly dancing Colombian singer Shakira, controversial Lady Gaga and Disney star Selena Gomez.
Globally the "Fastest Raising People" are Justin Bieber, Katy Perry, Selena Gomez, Kim Kardashian, Eminem, Lady Gaga, Miley Cyrus, Taylor Lautner, Megan Fox and Robert Pattinson. Fastest Rising in Entertainment is the leader once again Justin Bieber followed by Shakira, Eminem, Netflix, Youtube videos, Lady Gaga, Kesha, Nicki Minaj, Grooveshark and Transformers 3.
If you want to know who are the "Most Popular People" (US) they are:
Justin Bieber
Lady Gaga
Kim Kardashian
Nicki Minaj
Miley Cyrus
Katy Perry
Lil Wayne
Taylor Swift
Eminem
Megan Fox
For the full list of Google's 2010 Year-End Zeitgeist categories check it out here.