Khloe, Kim Kardsahian, Lady Gaga, All Dead on Twitter, Facebook (Photos)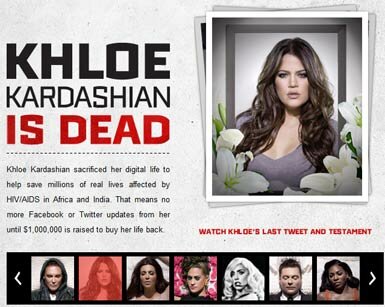 What do celebrities Alicia Keys, Kim Kardashian, Justin Timberlake, Khloe Kardashian, Serena Williams, Elijah Wood and more have in common? They all have died, but not really. The celebrities have all staged digital deaths online.

If you're not hearing a peep out of your favorite celebrity then you know why, they are doing it for a cause, World AIDS Day (December 1) by supporting the Keep a Child Alive campaign Digital Life Sacrifice.
The celebrities that have taken part in the charity event are committing themselves to the first celebrity blackout by not interacting on Twitter, Facebook and other social networking platforms. If you want anyone of the celebrities to return you have to text message their first name to 90999 to help bring their digital life back for a small donation of $10, as reported on HipHopRx.com, and they will return once raising $1 million dollars.
The charity provides first class AIDS care through doctors, nutrition, testing, transportation, treatment and more to orphaned and abandoned children who have lost their parents to HIV/AIDS in Africa and India.
Buy back the lives of Alicia Keys, Lady Gaga, Daphne Guinness, Janelle Monáe, David LaChapelle, Elijah Wood, Kim Kardashian, Justin Timberlake, Khloe Kardashian, The Buried Life, Jay Sean, Swiss Beatz, Serena Williams, Bronson Pelletier, Jennifer Hudson, Kimberly Cole, Ryan Seacrest and Usher.
www.keepachildalive.org
www.buylife.org