Regis Philbin Taps Nicki Minaj's Booty; Wishes He Could 'Go Hard' + Pictures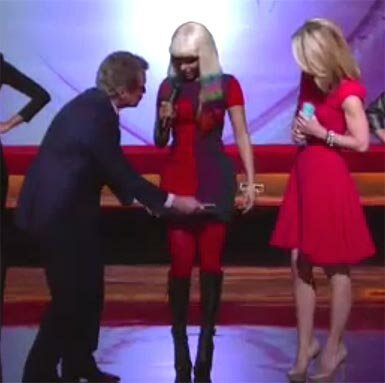 What does Regis Philbin of 'Live! with Regis and Kelly' show and Rihanna have in common? They both like to tap Nicki Minaj's booty, as Rihanna did last week, as reported on HipHopRX.com, and Regis did this week.

The female rapper appeared on the long-running talk show on Monday to perform "Right Thru Me" during their "LIVE in Las Vegas week" in promotion of her new album Pink Friday which released on November 19th. What Nicki Minaj might not would have thought was going to happen after her performance is that Regis Philbin would try to get a little smack on her butt.
While talking to Nick Minaj, the 79 year-old talk-show host, singer and personality complimented her on her outfit saying, "I love the way you dress." Regis kept glimpsing at Nicki Minaj we guess to see how he would get himself a little feel while asking her about her dress which was tightly fitted.
Regis goes on to say, "It looks like you have a little strap around you there [slapping her backside], you know what I mean?" Kelly, sounding estatic says, "Regis!" as the crowd cheered him on. Kelly waved her hands in the air questioning the booty slapping, "What just happened?"
After giving Nicki Minaj a quick shock, Regis told her that he loved Lil Wayne and asked what advice does Wayne give her.
"He tells me to go hard," says Nicki Minaj.
"Go hard? I wish I could," replies back Regis.
As for Nicki Minaj, she was short on words and just as in awe but later tweeted she was "in shock".
Photos of Nicki Minaj, Booty Pictures: