Funkmaster Flex Disses Tupac?! 2Pac Founded Outlawz Fire Back 'Warning Shots'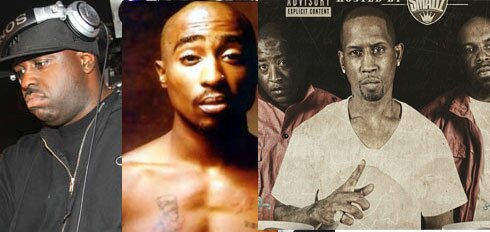 Recently Funkmaster Flex of New York City's Hot 97 made some controversial statements about rapper 2Pac aka Tupac Shakur, claiming that too many people were quote 'sucking' up to the whole 2Pac story and legend in hip hop, or in his own words "F*ck n*ggas sucking Tupac's d*ck!". Later, the Hip-Hop pioneer attempted to rectify and clarify his statement with words like "Not only do I respect his music, I respect what he put down," which seemed to have not been enough for longtime Tupac associates the Outlawz, who have dropped a diss aimed at Funkmaster Flex.

Hip hop artists The Outlawz, the group founded by Tupac Shakur have released a diss track entitled "Warning Shots" where in the diss song aimed at Funkmaster Flex, the rappers refer to Funkmaster Flex as a "hater," and an "old ass groupie" who is still "hatin" on Tupac years after his death.
Outlawz spit lyrics like:
"..Shout out to Brooklyn, New York loved Pac, Flex what you thinking, and ya'll wonder why real n*ggas get no play, the streets don't rock with you they rock with Kay Slay, why you still hating Pac after all these years, you a old ass groupie, and industry queer.. on the radio but definitely not the voice of the streets.. fuck em he was never gon' play me.. he half of the reason Nas said hip hop died and why, cause he play who ever paying, instead of what's hot.."
The song "Warning Shots" ends with a clip of Tupac actually referring to Funkmaster Flex as possibly someone he heard about while in jail dissing on a radio show.
After the "F*ck n*ggas sucking Tupac's d*ck!" rant, Funkmaster Flex later described his feelings of 2Pac in the following statement:
"I respect what he made happen, the records he made, the records he sold, and I know how passionate he was about his music. I also think that he brought a negative energy into the game with the beefing and the erratic energy and the threats… Everybody can say what they wanna say, dude didn't have no good energy towards me. He repeatedly said it, and I can't support that everything that people say about him, because I feel like that he brought a lot of negativity, and brought changes in the game that we now live with now and that's just the way I feel."

Watch video: Funkmaster Flex Dissing Tupac

Listen: Outlawz – Warning Shots (Funkmaster Flex Diss Song)