Real Housewives of Atlanta Kim Zolciak Pregnant, Photo'd Smoking (Pictures)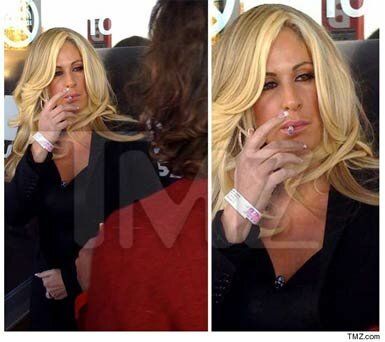 Looks like The Real Housewives of Atlanta reality star Kim Zolciak, 32, who is stated to be three months pregnant is back in the headlines for being captured on camera smoking a few weeks back.

The Tardy for the Party and Google Me singer and reality star confirmed the pregnancy almost two weeks after the smoking scene.
As for the baby daddy, Kim Zolciak is stated to be pregnant by NFL player Kroy Biermann, 25, of the Atlanta Falcons whom she started dating in May and not Big Papa. At the time the picture of her smoking was taken, according to TMZ, Kim Zolciak was outside the Georgia Dome watching her boyfriend play football.
Did Kim Zolciak not know that she was pregnant at the time she was smoking or was she fully aware that she was pregnant at the time and still chose to smoke the cigerette? Something to chime in on about.
Kim Zolciak has two daughters from a previous marriage, Brielle, 13, and Ariana, 9.