Soulja Boy Confesses He Loves Kat Stacks, Is She Getting Deported?! (Photos)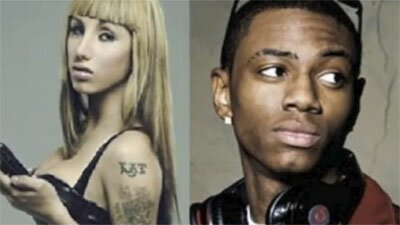 The latest reports and news have Soulja Boy pegged as in love with alleged hip hop groupie Kat Stacks, real name Andrea Herrera-Cardena, 21, who's also reported to be facing deportation back to her native country of Venezuela.

Is there truth to these reports? Well, there's video of rapper Soulja Boy in an interview with Angie Ange of D.C.'s KYSDC 93.9 FM, admitting that he doesn't just have love for Kat Stacks but he "loves" Kat Stacks. But looking closely at the video the rapper seems to be smirking as to be joking around, so is Soulja Boy 'charming' the media on this one or has the young rapper and businessman truly found real love in Kat Stacks who he jokes about in the same sentence of love as being quote "scum of the earth?" Hmmm..
Meanwhile, Kat Stacks who was first reported as arrested in Nashville Tennessee, then reported to have been taken into custody by Davidson County Sheriff's Department on a felony immigration charge, has reportedly now caught a break in the case, and is likely not being deported back to Venezuela. In her own words from jail, Kat Stacks' Twitter page updated the following: "The judge called OFF the deportating order," adding that she was awaiting a "bond price."
If Soulja Boy's statements were true then he'd be happy since, in his interview, he stated it was "sad" that Kat Stacks was "getting deported" claiming "they're taking [his] baby away."
In regards to Kat Stacks' rumors that Soulja Boy did cocaine, as reported on HipHopRX.com, the rapper simply replies "I ain't never did coke a day in my life," while adding that anyone can "say whatever" because he "knows what's true."
Video: Soulja Boy Confesses His Love for Kat Stacks