Lil Kim Unleashes On Nicki Minaj in Hip Hop Diss Song Download 'Black Friday'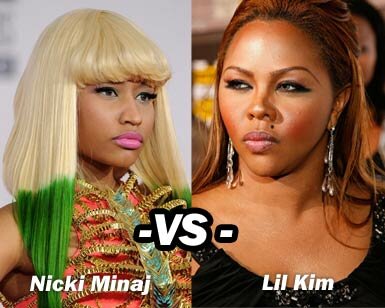 The Queen Bee herself Lil Kim has risen from her rest and has released a new, hip hop diss song and download aimed at Nicki Minaj entitled 'Black Friday' which mocks Nicki Minaj's debut album download 'Pink Friday' which was released on Friday, November 19th. Lil Kim calls Nicki Minaj a gimmick, garbage, and trash amongst other things in the raw & uncut rap song.

In the diss, Lil Kim can be heard in the chorus saying that she's going to turn Pink Friday to 'Friday the 13th' over Pharoahe Monch's ""Simon Says" track which was released in 1999.
The gritty rhyme began with Nicki Minaj's interview where she stated you have to be careful when you pick fights, Lil Kim chimes in then starts the rap off with, "Shut the f-ck up." The female MC then lets Nicki Minaj know that this is not a championship fight, because she's always been the greatest and tells Nicki Minaj that she is a Lil Kim wannabe and brings up the poster referring to the one Minaj mimicked that Lil Kim used to promote her debut album Hard Core in 1996.
Lil Kim also questioned Nicki Minaj's sanity with the line, "either you high or sippin' that ish Lil Wayne's on."
Lil Kim also dissed Diddy in the 'Black Friday' song calling the two (Nicki Minaj and Diddy) swagger jackers, spitting "I mothered you hoes, I should file you on my income taxes."
Seems like Lil Kim was not holding back in this diss aimed at Nicki Minaj. Take a listen.
[display_podcast]