Wiz Khalifa Multi-Felony Arrest Caught On Tape; Still Twitters He's Smoking!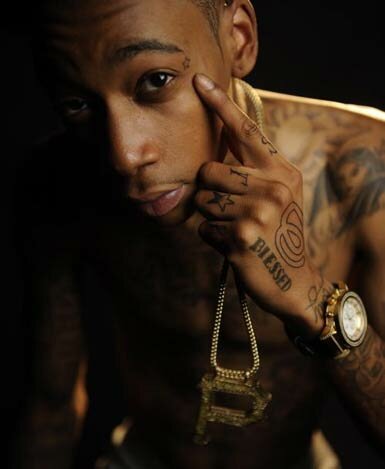 Rapper Wiz Khalifa known for his song 'Black and Yellow' was arrested and charged with two felonies on Monday. The Pittsburgh rapper, born Cameron Thomaz, was in Greenville, North Carolina for a concert as a part of the "Waken Baken 2010 Tour" at the Wright Auditorium for students at East Carolina University.

It's not a hidden fact the rapper talks about weed in his songs and even boasted in a video that he spends $10,000 a month on weed at the Rock The Bells and stated the he was high at the time of the interview.
What happened next? After Wiz Khalifa's performance at ECU, the hip hop artist was arrested while trying to board his tour bus where a nice stash of marijuana was found by authorities.
Wiz Khalifa was charged with possession of drug paraphernalia, maintaining a dwelling for the storage of illegal drugs and drug trafficking.
Even after getting charged with two felonies and being released on a bond of $300,000, the rapper posted today on Twitter, "I'm very thankful that the Isley Brothers are lettin me smoke wit them right now."
Wiz Khalifa is touring with Big Krit and Yelawolf for the "Waken Baken 2010 Tour".
Video of Wiz Khalifa's Arrest Caught On Tape

Check out Wiz Khalifa Talking About His 10,000 A Month Smoking Habit

Wiz Khalifa All Performance Dates:
Nov 13 2010 7:00P
Nokia Theatre Times Square New York, NY
Nov 14 2010 8:00P
Northern Lights Clifton Park, NY
Nov 16 2010 8:00P
Crocodile Rock Cafe Allentown, PA
Nov 17 2010 8:00P
The National Richmond, VA
Nov 18 2010 10:00P
9:30 Club Washington, DC
Nov 19 2010 7:00P
Starland Ballroom Sayreville, NJ
Nov 20 2010 7:30P
Mullins Center Amherst, MA
Nov 21 2010 9:30P
Paradise Rock Club boston, ma
Nov 24 2010 7:00P
Club Cinema Pompano Beach, FL
Dec 4 2010 7:00P
Syracuse University (Goldstein Auditorium) Syracuse, NY
Dec 16 2010 6:00P
Stage AE Pittsburgh, PA
Dec 17 2010 7:00P
Stage AE Pittsburgh, PA
Dec 18 2010 7:00P
Club Fire Jackson, MS
Dec 28 2010 7:00P
Rams Head Live Baltimore, MD
Dec 29 2010 7:00P
House of Blues Atlantic City, NJ