Kanye West Blasts 'Today Show,' Cancels Gig, Twitters 'I don't hate Matt Lauer'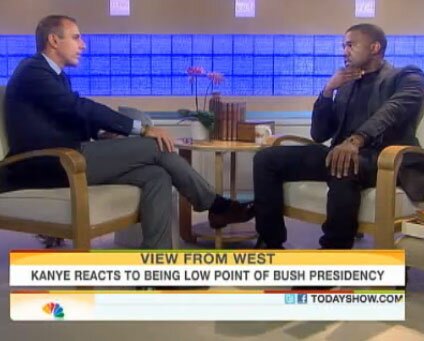 Kanye West has put "Today Show" host Matt Lauer on blast for reportedly attempting to manipulate the outcome of his intent to apologize sincerely to President Bush, which Kanye did with an almost uncanny show of humbleness and class, not expected of the usually controversial rapper.

Matt Lauer interviewed Kanye West on NBC's Today Show after first getting the initial response from President Bush about Kanye's past comments about him not caring about black people.
Bush stated that he quote "didn't appreciate it" and being referred to as a "racist" was one of the most "disgusting" moments of his presidency.
In the interview with Kanye West whom Lauer wanted to respond to Bush, they began discussing the controversy surrounding Kanye's remarks about President Bush.
Kanye West claims that during his interview, the clip of MTV which was being played supposedly underneath his audio, was interruptive and it seemed as though Lauer and the show were somewhat trying to coerce an emotional response out of him.
Lauer later stated that the video clips they play are commonly ran during interviews and it was "nothing unusual."
Afterward, Kanye canceled his "Today Show" performance sticking to his original claim, but followed up on his Twitter with "I don't hate Matt Lauer… We [Kanye West's fans] don't promote hate. That's the whole point!!! I promote love and truth!"
Meranwhile, Bush on the other hand, has accepted Kanye's apology, as reported earlier on HipHopRX.com.
Watch video of Kanye West's Today Show Interview with Matt Lauer