Beyonce Knowles Pregnant With Her and Hubby Jay-Z's First Child?! (Photos)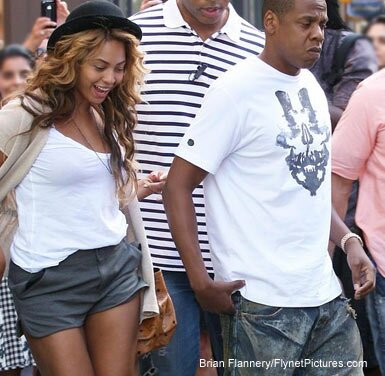 Beyonce Knowles who has been working on a new album and hoping to do another world tour is stated to be pregnant with her and rapper Jay-Z's first child.

According to US Magazine tabloid, 29 year-old Beyonce Knowles is allegedly surprised and happy about the news.
The story goes that an insider stated that the singer realizes that this is a gift from God.
Meanwhile, music executive Kevin Liles is quoted as saying that Jay-Z is all about family since he met him and he wishes them the best. Beyonce's sister and singer Solange Knowles is reported as stating that Beyonce will be a great mom.
Beyonce has been talking about having children and getting pregnant for sometime now, as reported on HipHopRx.com. Just a few weeks ago, it was speculated that singer may be pregnant after she was spotted wearing a visible girdle, but maybe she was a little bloated that day.
The story is in the latest issue of US Weekly available on news stands now.
BTW, Beyonce was seen today wearing a form fitting dress with hubby Jay-Z.
Until then, let's all wait to hear this officially from Beyonce and Jay-Z's camp.
Until then, developing….
Check out Beyonce in her Allure cover photos shoot where Beyonce talks about getting pregnant as well as a few of her Allure August 2002 pictures .