Eminem On 60 Minutes with Anderson Cooper: Talks Music, Profanity, Addiction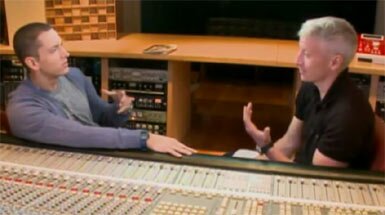 Rapper Eminem will be getting profiled on a 60 Minutes segment with CNN's Anderson Cooper on CBS. Eminem will be taking you on a journey of his life from now and before becoming a celebrity such as jobs where he worked at as a teenager and more.

The rapper will be discussing his music, lyrics, his household and will also be giving rhyming advance to Cooper.
In a sneak peek of the interview, Anderson Cooper asked him about bending words to make some of the words rhyme.
"People say orange doesn't rhyme with anything and that kind of pisses me off because I can think of a lot of things that rhymes with orange," says Eminem.
"What rhymes with orange?" asks Anderson Cooper.
Eminem talks about the face value of the word and says nothing is going to rhyme with it exactly but explains that you have to enunciate the word to make it more than one syllable such as "o-range."
In the interview, Eminem also talks about not allowing profanity in his home and goes in-depth about his life and battling with drug addiction, as reported on HipHopRx.com.
Eminem's segment is set to air on Sunday, October 10 at 7 p.m. ET/PT.