Bishop Eddie Long Sex Scandal: From Private Dick to 'Street Fight' (Pictures)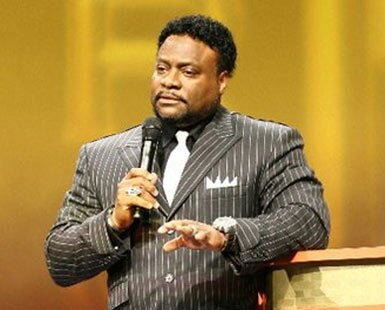 The Bishop Eddie Long sex abuse scandal continues and on Sunday, for his third public appearance at New Birth Missionary Baptist Church, the mega-church pastor stated that he's not going to be pulled into a street fight.

Bishop Eddie Long, 57, pastor of New Birth Missionary Baptist Church in suburban Atlanta (Lithonia, Georgia) is accused of coercing four of his male followers as teens into sexual relationships, two of which were recruited for his youth program Longfellows Youth Academy.
The four young men who are now in their twenties claim that Bishop Eddie Long coerced them and gave them gifts such as jewelry, cars, luxury hotel suites, trips and more, as reported on HipHopRx.com.
The four plaintiffs in the civil lawsuit are Jamal Parris, 23; Maurice Robinson, 20; Anthony Flagg, 21 and Spencer Legrande, 22.
While Long says he won't be pulled into a street fight, his latest addition to his legal team is high profile private investigator TJ Ward.
Meanwhile, as investigator TJ Ward tries to dig up dirt on the four plaintiffs, people are questioning Bishop Eddie Long's role and if he should step down for the time being until everything settles with the civil lawsuit. Only time will tell.
Developing…
Read more news on the Bishop Eddie Long Sex Scandal.
Here's the picture of the 'private dick' by the name of TJ Ward, a very high profile investigator, who has been hired to probe the Bishop Eddie Long sex abuse scandal:

Check out the pictures including mug shot photos of Bishop Eddie Long sex scandal accusers, alleged victims Anthony Flagg and Maurice Robinson, plus Spencer Legrande and Jamal Parris:
Check out the cellphone photos of Bishop Eddie Long.. these are the reported cell phone pictures that were allegedly sent to his accusers: