Justin Timberlake Stars In The Social Network + Jimmy Fallon Rap Hip Hop Duet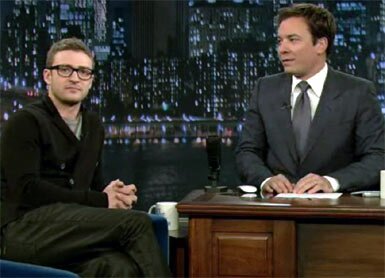 Grammy award winning singer, actor and business man Justin Timberlake, who possibly may not make another album for sometime due to committing himself to acting and business ventures, appeared on Late Night with Jimmy Fallon Wednesday. The celebrity entertainer stopped by the show in support of the new social networking movie based around Facebook "The Social Network," in which he stars in alongside lead character Jesse Eisenberg (who plays Mark Zuckerberg), amongst others.

Justin Timberlake plays the role of Sean Parker, a former teen hacker and now entrepreneur. Sean Parker is co-founder of the infamous free file-sharing service for music Napster, Plaxo a social network and address book and causes an advocacy and fundraising application within Facebook. Parker later became the President of Facebook but had to leave after getting arrested for cocaine possession in 2005.
After some serious talk about the movie and his role, everything turned to music and a skit. Fallon began asking him about old school rap and more. Justin Timberlake began to get hype after talking about the Sugarhill Gang who opened up for N'Sync at a concert years ago.
The music talk turned into a mini-concert skit where the two began rapping lyrics and dancing while The Roots provided the music.
The two did snippets of songs such as Soulja Boy's Crank Dat, Sugarhill Gang's Rapper's Delight, Missy Elliot's Work It, Eminem's My Name Is, 2 Pac's California Love, Jay-Z's Empire State of Mind, amongst other songs.
Meanwhile, the movie The Social Network which also stars Andrew Garfield who plays Eduardo Saverin, Brenda Song as Christy Lee, Rooney Mara as Erica Albright, Armie Hammer as Cameron Winklevoss/Tyler Winklevoss and Max Minghella as Divya Narendra, came out in theaters today, October 1, 2010.
Watch Justin Timberlake and Jimmy Fallon Hip Hop Duet – History of Rap