7 Year old Rapper Lil P-Nut Charms Ellen Degeneres; Gets Surprise Escalade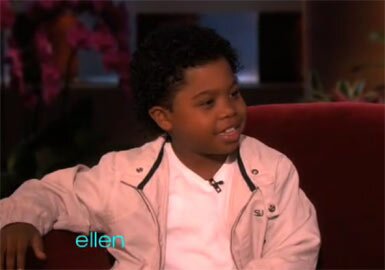 Seven year-old rapper Benjamin Flores Jr aka 'Lil P-Nut,' formally spelled 'Lil P-Nutt,' is becoming a hip-hop sensation after getting major attention due to a local news broadcast video going viral in which he was attached to the Hip Hop Weekend & Expo in Memphis, TN. The young rapper appeared on Fox 13 Memphis and demonstrated the rapping skills that he would be using at the Hip Hop Expo and since then everything has been on the up for the very talented 7 year-old.

Recently Lil P-Nut was invited to appear on the Ellen Degeneres show and what did he do to Ellen — he used his charm on her. The two chatted for a few minutes before he performed his song "You Might Be The One."
Ellen Degeneres asked P-Nut, "So did you come up with the name Lil P-Nut?"
"No mam, my uncle said my head looked like a peanut when I was born. But I don't really believe it. On't believe it," says Lil P-Nut.
The young rapper went on to talk to Ellen Degeneres about his fans which she questioned him about their ages. According to Lil P-Nut, the young girls' ages range from 2 up to ladies in their twenties.
Lil P-Nutt went on to rap his song "You Might Be The One" which the lyrics talk about a young girl who P-Nutt says could be his study buddy, etc. At the end of the song, Lil P-Nut pointed to Ellen who surprised him with a gift at the end of his performance — a black 'Lil' Escalade' with chrome wheels.
This probably won't be the last we'll be hearing about Lil P-Nut since he's been gaining quite some coverage, as well as video cameos with the likes of Yo Gotti for the music video "Look In The Mirror," amongst others, including a past cameo in Three 6 Mafia's 'Lil Freak' music video.
Video: 7 Yr-old Rapper Lil P-Nut's Interview and Live Performance On Ellen Degeneres Show

Lil P-Nut – You Might Be The One Official Music Video

Video: Rapper Lil P-Nut's Live Performance at Memphis Hip Hop Expo 2010