Bishop Eddie Long Sex Scandal: Victims Caught On Expletive Laced Tape + Photos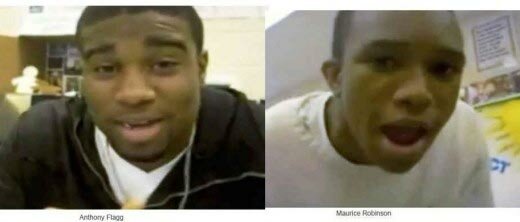 Pictures first and now video has surfaced with two of the plaintiffs in the Bishop Eddie Long sex scandal suit. The video comes after photos that hit the Internet showing a buff Bishop Eddie Long in workout attire, as reported on HipHopRx.com.

A video showing Anthony Flagg and Maurice Robinson, two of the four plaintiffs in the Bishop Eddie Long suit has surfaced online showing the two boys in a high school class setting joking and throwing money in the air. The video is believed to have been taken when they both attended high school at Miller Grove High School in Dekalb County. The two young men are the same ones accused of breaking into Bishop Eddie Long's office in June.
It's unsure if their attorney saw the video prior to the suit that was filed on last week, but previously, Anthony Flagg and Maurice Robinson's attorney B.J. Bernstein made a statement according to reports, saying that the young men spent Sundays at church all day and they don't party and stay out all night or smoke drugs. If Attorney B.J. Bernstein seen this video, would she think otherwise? The two young men make jokes about smoking dope and of-course getting young women while using a number of expletives and n–ga this and n–ga that.
"That make you wetter n–ga, we trying make things better," says Maurice Robinson.
"That's his girl, I make her wetter," Anthony Flagg says in the camera while pointing back to Maurice Robinson and singing in the background his version of a song by rapper Fabolous, "You Make Me Better." A young woman sniggles behind the camera.
The video goes on for almost a minute longer with Maurice Robinson asking, "Do you wonder why stupid n–gas always ask you questions?"
Anthony Flagg comes back answering his questions and giving a dramatization of someone smoking dope while also saying one of his friends is addicted to the green.
"A n–ga be like this, smoking like… A n–ga smoke out of almost anything these days," he says.
"Say for instance my n–ga Paul, he my n–ga, but he smokes — he's addicted to the green," Flagg adds.
Currently there has been no comments about the video from either party, but the way Bishop Eddie Long is speaking, there's probably a lot more to come from both parties.
Read more on the Bishop Eddie Long Sex Scandal
Watch video of Bishop Eddie Long Sex Scandal Victims, Anthony Flagg and Maurice Robinson, Caught On Expletive Laced Videotape
Check out the pictures including mug shot photos of Bishop Eddie Long sex scandal accusers, alleged victims Anthony Flagg and Maurice Robinson, plus Spencer Legrande and Jamal Parris:
Check out the cellphone photos of Bishop Eddie Long.. these are the reported cell phone pictures that were allegedly sent to his accusers: