Bishop Eddie Long Speaks From Pulpit Amidst Cellphone Pictures Leak (Photos)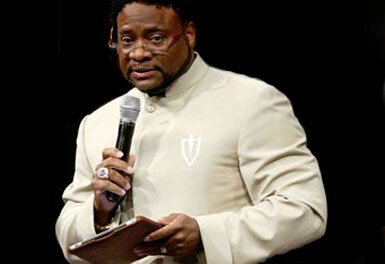 On Sunday, Bishop Eddie Long addresses his congregation and the public for the very first time since the sex allegations.
Megachurch leader Bishop Eddie Long publicly spoke for the first time since the sex scandal allegations that he had sexual relationships with young men at this Youth Academy. Four men who are believed to have been teens when the sexual relations began, claim that Bishop Eddie Long lured them by offering jewelry, cars, gifts, luxury hotel suites and more, as covered on HipHopRx.com.

The young men were once students of his LongFellows Youth Academy where young adult men are taught to be responsible and learn about investments, Social Security, health and fitness, sexual control, amongst other things.
Early Sunday morning, Bishop Eddie Long, 57, a well-known advocate against homosexuality, addressed the congregation at New Birth Missionary Baptist Church in suburban Atlanta along with visitors and stated that he will be putting up a fight against the accusations. The preacher stated that he is not a perfect man, but he is not the man that everyone is portraying him in media and on television. "That's not me," stated Bishop Eddie Long.
Bishop Eddie Long went on to compare himself to David and Goliath in the bible and says that he has 5 rocks that he hasn't thrown yet, which makes a person wonder what does he have in store for his alleged victims which has accused of him of having an ephebophilia relationship.
The sex scandal of Bishop Eddie Long is being somewhat compared to that of Ted Haggard who stepped down from his church in 2006 after a masseur and prostitute named Mike Jones alleged that he had a sexual relationship with Haggard for three years. Haggard denied any sexual infidelity, but he admitted he had used crystal meth. Ted Haggard, former pastor of the 13,000 member church, New Life Church in Colorado Springs, told AOL News that Bishop Eddie Long deserves a fair hearing and no one should be rushing to judge him.
Meanwhile, Bishop Eddie Long reminded the congregation that they were at church today and every Sunday morning and that he'll be at church next week, while keeping everyone wondering if he would inform them if he had ever had any sexual relationship with any of the alleged victims.
The plantiffs in the Bishop Eddie Long sex scandal case are Maurice Robinson,20; Anthony Flagg,21; Jamal Parris, 23; and Spencer LeGrande, 22.
Check out the cellphone photos of Bishop Eddie Long.. these are the reported cell phone pictures that were allegedly sent to his accusers: