Americal Idol Judges Picture'd: Jennifer Lopez, Steven Tyler of Aerosmith (Photos)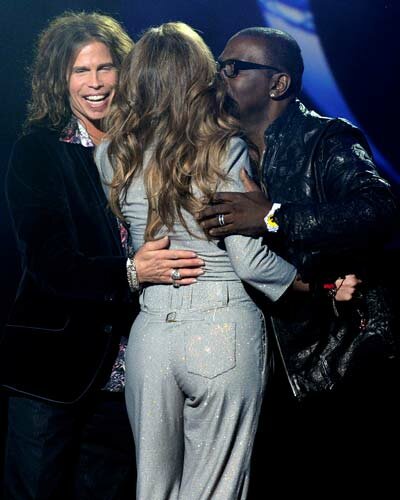 After months and months of speculation about who the new 2010-2011 American Idol judges were going to be.. the official announcement has been made by Ryan Seacrest. Our new 'American Idol' judges are Jennifer Lopez and Steven Tyler, joined by American Idol judge favorite Randy Jackson.

Host Ryan Seacrest announced the news in a videotaped live press conference that streamed over americanidol.com. Before today, possible judges that were speculated to take the place of Simon Cowell and Paula Abdul were Jessica Simpson, Sean 'Diddy' Combs, Shania Twain, Bret Michaels, Rodney Jerkins, Chris Isaak, Harry Connick Jr and others.
Now with the new judges Jennifer Lopez and Steven Tyler announced, people are speculating who will be the tough judge similar to Simon Cowell and who will be the heartwarming judge much like Paula Abdul.
Internet talk and the live press conference itself seem to point to Jennifer Lopez as the 'heartwarming' one and Steven Tyler as the 'tough' one, but who knows.
Season 10 of American Idol is slated to premiere on Fox on January 12, 2011 and will be the first season where teenagers aged 15 will be allowed to audition.
Online auditions through MySpace.com/AmericanIdol began on September 15 and can be submitted up until October 6, 2010.
Photos of American Idol 2010-2011 Judges Randy Jackson, Jennifer Lopez, Steven Tyler and host Ryan Secrest

Watch the videotaped live press conference of the 'American Idol' judges announcement: