Rapper Rick Ross Caught In Sex Tape Scandal, Says Not Him On Dirty Spread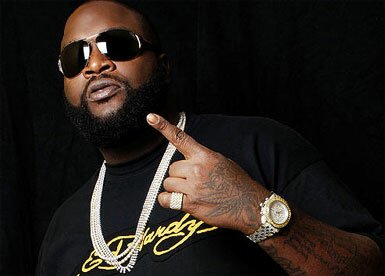 It seems, in one of the probably most awkward hip-hop sex tape rumors, Miami rapper Rick Ross has been rumored to be involved in a new sex tape. Yes, Rick Ross is allegedly caught in a sex tape with an unidentified woman.

Apparently, the sextape which allegedly surfaced on the Internet Thursday, shows a man who looks to be Rick Ross in the bed with the woman in some NSFW intimate moments.
According to Rick Ross, he got a glimpse of the video and noticed although the man resembles him, he's missing his infamous tattoos, the rapper/CEO told MTV in an interview. In addition, Rick Ross pointed out that the man in the video had a Louis flag in his pocket which they began wearing last year and that he was laying on the spread inside of the hotel room which his mother taught him not to do as a 'youngin.'
"..laying on some cheap-ass hotel spreads that had probably had all kinds of sh– on it," stated Rick Ross who added that they don't wash the spreads as often as they wash the hotel sheets.
Allegedly the video is supposedly of Rick Ross before he got to his celebrity status.
Meanwhile, Rick Ross, who released his album "Teflon Don" in July, says the person on the video can just send him a little check and gave a shout to all the fat boys getting it in worldwide.
This is not the first sex scandal attempt for Rick Ross, on last year, rapper/actor Curtis '50 Cent' Jackson attempted to tarnish Rick Ross' reputation by putting out a sex tape of the rapper's baby momma on last year which was followed by a lawsuit from Lastonia Leviston, as reported on HipHopRx.com.