David Beckham Hooker Sex Scandal, 10K A Night Prostitute Irma Nici: Photos + New Details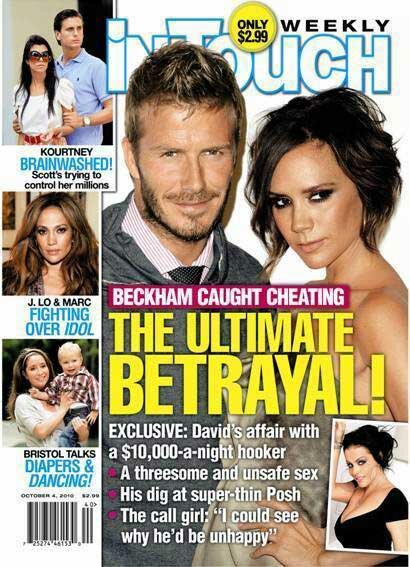 It seems that the world's most famous soccer superstar, David Beckham, is caught up in a steamy celebrity sex scandal involving a high priced hooker by the name of Irma Nici. Irma Nici, 22, claims she was hired by David Beckham for multiple sexual encounters.

In Touch reports that Irma Nici says she slept with David Beckham five times in 2007 and she claims that her alleged lover and herself would have hours of foreplay before engaging in sex lasting 15 minutes or more.
Apparently, according to the report, she was happy with the sexual encounters rating Beckham a 7.5 out of 10 in the bed.
Nici claims it was also "exciting" being with Beckham because quote "all.. women dream of being with him."
Nici claims she was paid a whooping $10,000 a night to stay and have safe sex with David Beckham who "whipped out" a condom during their sex which was "nothing freaky."
Coincidentally enough, as most hookers claim about married men, Nici alleges that Beckham would open up about his wife of 11 years, Victoria.
Currently Beckham denies the charge, according to his rep, and they plan to take "legal action against [In Touch] magazine," which has headlines of Beckham Caught Cheating + unsafe sex, threesome, and more on the cover with a photo of Beckham and Nici.
View the photos cover of David Beckham who allegedly cheated with his alleged mistress, prostitute Irma Nici: