Rapper 50 Cent's Shocking Skinny Weight Loss: Before and After Photos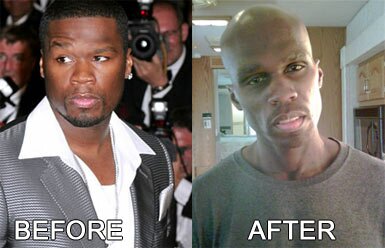 Rapper 50 Cent has lost an incredible amount of weight for an upcoming movie role in 'Things Fall Apart.' We have the before and after photos for you under the hood!

According to ThisIs50.com, 50 Cent born Curtis Jackson dropped 54 pounds in just 9 weeks with a liquid diet and working out three hours a day.
The G-Unit CEO and rapper went from 214lbs to 160lbs for his upcoming movie 'Things Fall Apart' in which he plays a football player with cancer.
50 Cent is also the co-producer of the film with Randall Emmett.
Check out the before-and-after photos of 50′s shocking weight loss.