Mariah Carey, Nick Cannon Get Married 'Again!' Planning Pregnancy, Family?!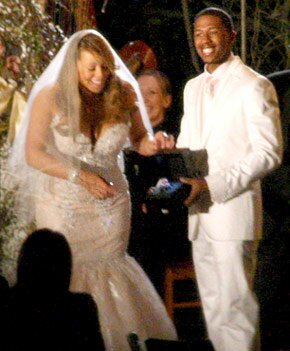 Mariah Carey and Nick Cannon reportedly renewed their wedding vows during a traditional ceremony on Friday, April 30th at their Beverly Hills home.

According to sources, the two gave each other rings and kissed during the ceremony. Mariah wore a wedding dress equipped with a veil while Cannon wore an all white tux.
After dating only six weeks, Mariah Carey, 41 and Nick Cannon, 29 tied the knot in 2008 during a secret ceremony at Carey's estate in the Bahamas.
The couple seem to be doing just fine by getting married again.
"We get married every year! That's our thing," Nick told Us Magazine.
As far as the couple having kids anytime soon, Nick says maybe in a year or two.
According to Nick Cannon, his wife's schedule is starting to calm down and so you'll never known if it may happen in the next year or two. "The rumors might come true," the rapper and business executive states.