Caught on Tape! Philadelphia Phillies Fan Tasered Vs St Louis Cardinals Game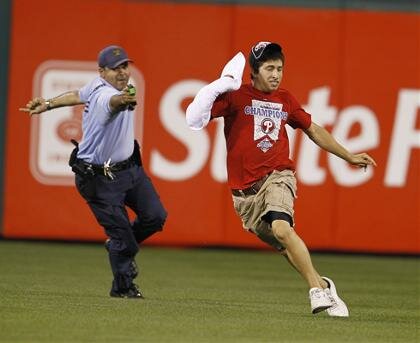 A Philadelphia Phillies fan was tasered after he hopped the fence and ran on to the field during a game between the Phillies and the St. Louis Cardinals on Monday.

A 17 year old Phillie fan, whose real name has not been released to the public because he is a minor, was not expecting the repercussions following his leap to glory. The fan hopped the fence during the baseball game (we're guessing he wanted some attention) and was chased around the field by authorities, evading two security guards before he was tased and dropped by the electricity flowing through his body.
The fan was escorted off the field and was reportedly taken to jail where he was charged with criminal trespass.
Phillies spokeswomen Bonnie Clark said authorities are investigating the situation and are discussing whether the stun gun was used appropriately.
Police spokesman Lt. Frank Vanore told The Philadelphia Inquirer that internal affairs will open an investigation as well to determine if the firing of the stun gun "was proper use of the equipment."
The Cardinals won that game 6-3.
Philadelphia Phillies Fan Runs Onto Field, Gets Tased