Lady GaGa Amputated Leg For 'Alejandro' New Music Premiere?! (Photos)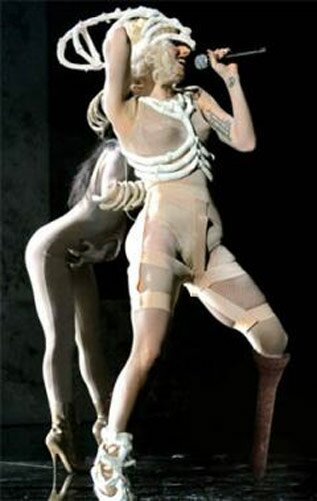 Rumors have it that sometimes crazy-natured Lady Gaga reportedly chopped off (amputated) her leg from the knee down all in the name of fashion. Hmmmmm..?

Some media outlets are reporting that Lady GaGa amputated her leg as a rumor and others are reporting that it's true that Pop star Lady GaGa had one of her legs removed and that her record label paid for it.
Now, don't think for one second that Lady GaGa is extreme enough to do something like this or is she?! In a recent interview, GaGa admits to the amputation and even wants her other leg or arm amputated.
According to the music singer, this is the latest fashion she's starting and everyone can see that she's a world leader when it comes to her wacky and weird 'sh*t.' The singer goes on to say that next month, after she recovers from surgery, she hopes to have her other leg amputated or maybe her arm. "hmm…which one should I amputate next?" the rumor reports have Lady Gaga saying.
GaGa's video for her new single 'Alejandro' is said to premiere her new amputated look.
We can't wait to see how this plays out. She could very well have a following of fans that let's say are 'extreme' enough?!.